Dear Luther Heights partners, please see these recent letters from our Executive Director. For questions or concerns, please contact Kelly Preboski at .
May 20, 2020 Letter (pdf) April 22, 2020 Letter (pdf) March 20, 2020 Letter (pdf)
---
LHBC Coloring Pages
---
RESOURCES FOR FAITH & CAMP AT HOME
Zoom Background Photos
How to change your Zoom background 
Choose which camp image you love and then save it to your desktop by right clicking to "Save Image As…" or using the Ctrl(Command) + S shortcut.
In the Zoom app, click your profile in the top right corner, and click Settings.
On the menu to the left, click Virtual Background.
On the same Virtual Background Page, click the + icon next to Choose Virtual Background. A box will pop up allowing you to upload a photo from your computer. Click on the camp background you downloaded, and it will appear alongside the other pictures as an option for you to choose from. Enjoy having camp in your view!
---
FAQs
---
Faith Five
Nightly at camp, our counselors do Faith Five with our campers (www.faith5.org). Faith Acts in the Home is a simple, easy-to-implement faith practice, perfect for incorporating into your dinner time routine or bedtime routine for five to fifteen minutes a night. When done over time, Faith Five carries the power to enrich communication, deepen understanding, aid sleep, and promote mental, physical, and spiritual health. Gather together with friends or family (even virtually can be great)! You may wish to light a candle to begin. The five steps are:
SHARE your highs and lows. Creative examples:

Roses (highs) and Thorns (lows). You could even add "buds" to this and share of an act of kindness witnessed or initiated.
Bubbles up (highs), bubbles down (lows).
Mountain top (high), valley (low).

READ a Bible verse or story. A devotional for Lent could be used, the readings for Sunday worship, Psalms, etc.
TALK about how the Bible reading might relate to your highs and lows. What are these verses trying to teach us? Do these verses raise questions?
PRAY for one another's highs (joys) and lows (concerns). You could close with the Lord's Prayer or even a camp song!
BLESS one another. Create a fun blessing to close your time together. Could be sprinkling of water to remind one of baptism, could be to pretend you are blowing in the wind to connect to the Holy Spirit, or even an air high five.
---
Prayer Walk
Commonly at camp this is something people do solo ... with note cards of questions or prayers written on them as they walk and reflect. The goal is to reflect on one question for a time, before moving to the next question. Adjust as needed.
Questions as I journey and walk with a loving God today:
Where is a spot I can pray at home? Should I create a special prayer place I go to?
How does nature show God's love?
How does nature show signs of hope for the future?
If you could bring one person to camp who has not been, who would that be and why?
Think and reflect on a moment you saw God today?
Pray for a group of people you really think need to be uplifted right now.
Reflect on this verse: Romans 8:38-39 says … 38 For I am convinced that neither death nor life, neither angels nor demons, neither the present nor the future, nor any powers, 39 neither height nor depth, nor anything else in all creation, will be able to separate us from the love of God that is in Christ Jesus our Lord.
If you could teleport to anywhere right now ... where would it be and why?
Who is a person you look up to in leading a faith-centered life? Why? Can you send them a letter, call, or FaceTime in the next few days with them?
What is something you need prayer for right now? Lift that up to God now.
---
Craft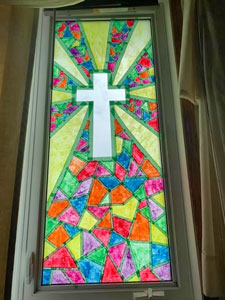 Across America, families staying at home are urged to share something in their window or decorate it in a fun way for those going on walks around their neighborhood to enjoy. This fun and easy activity helps communities stay connected and spread joy.
We found this amazing stained-glass window technique using washable paint and painter's tape! U sing painter's or masking tape, outline your stained-glass layout, creating a fun pattern, shape, or organic lines. Then take your washable paint and dilute it with a little bit of water to make sure the sun will still shine through. Paint each section of your window! Let dry, then remove the tape outlines to reveal your "stained-glass window!" Picture We'd love to see your artwork! Tag us on Facebook and Instagram @lutherheights.


---
Snack
When you think of camp, one of the first things to come to mind is making a s'more! Here is a fun twist on how to talk about kindness while making a s'more at home:
Create an assembly line with the ingredients to make S'mores. As kids stack their snacks, ask them to talk about a time they did "some more"- an act of kindness or compassion for someone, or how a person reached out to do some more for them. Once constructed, melt these tasty snacks in the microwave for about 15 seconds to eat!
Ask:
Why do you think God wants us to do some more for others?
When wouldn't God want you to do some more for someone?
When has God done some more for you?
A scripture to consider sharing for this activity: Galatians 5:13-14
13 For you have been called to live in freedom, my brothers and sisters. But don't use your freedom to satisfy your sinful nature. Instead, use your freedom to serve one another in love. 14 For the whole law can be summed up in this one command: "Love your neighbor as yourself."
---
Read
Our summer theme is: "For the Lord is good; his steadfast love endures forever, and his faithfulness to all generations." Psalm 100:5
Start reading some of the stories we'll be learning about at camp!
The story of David: 1 Samuel 16:1-13
Elementary: David was a shepherd, which means he took care of sheep. If you could take care of any animal (real or fiction), what animal would you take care of? Find things around your home to dress up as that animal. Bonus if you share a photo! (email us at or tag us @lutherheights)
The story of Abraham & Sarah: Genesis 12:1-9
Abraham and Sarah had to depend on each other and God during their journey. Take the attached list and venture into your neighborhood and community to find the items listed. Take photos as you go along. Upload and share your team photo! Let us know how you did.
Debrief: What was it like to look for something? What was the hardest thing to find? What made this easier? How can we ask for help when we encounter obstacles or uncertainty?
The story of Joseph: Genesis 45: 1-15; 50:19-20
These passages tell the end of Joseph's epic story: known for his crazy dreams, colorful coat, rise to power in Egypt (after being sold as a slave and presumed dead by his brothers). Despite the hardships, God made it good. Joseph grew through the difficulty.
Family: Composting is an effective way to turn what may otherwise be thrown away into nourishment for future plants and take care of God's creation! Try making your own compost container at home. Use one of the links below for guidance if you need.