Welcome
Luther Heights Bible Camp is a Lutheran outdoor ministry based in central Idaho. Our camp's location is in the beautiful Sawtooth Mountains near Stanley, Idaho. We operate on permit with the Idaho Forest Service in the Sawtooth National Recreation Area with an elevation of 7,200 feet.
We operate an ACA-Accredited outdoor ministry site, offering summer youth programming, retreat opportunities for all ages, and traveling day camps.
Affiliated with the Evangelical Lutheran Church of American, we value our partnerships with 19 member congregations in the Eastern Washington-Idaho Synod, as well as partnerships with community organizations throughout Idaho.
Luther Heights Bible Camp is dedicated to fulfilling our mission to create safe experiences for all people to proclaim the Gospel and grow in faith. Those who experience our programming will connect with positive Christian role models, participate in daily Bible study, explore the beauty of creation, and sing and praise God around campfires.
---
Our Mission
"Through safe and amazing experiences Luther Heights Bible Camp proclaims the Gospel, builds faith, and strengthens the body of Christ by serving all people."
---
Our History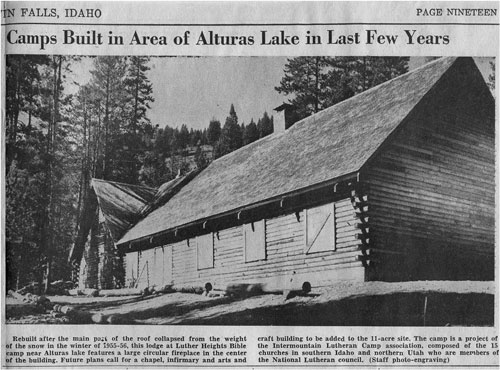 In the early 1950s a visionary group of Lutheran clergy and laity envisioned building a camp where youth and adults could hear the glory of God's promises and be nurtured into the abundant life promised to us by our Lord. In 1951, Pastor Elmore Carlson from Trinity Lutheran in Nampa, Idaho, signed the initial Forest Service Permit, which was instrumental in procuring further camp development. In its primitive state Luther Heights began holding onsite camps in 1955. For the next 20 years the Camp would operate with a camp manager and local Pastors serving as "Deans" for each camp session. In 1977, Mike Dismer became the first Executive Director.
As it stands today, Luther Heights continues to grow. With new cabins and bathrooms, and the dedication of the Sawtooth Lodge in 2016, as well as many upcoming additions, the camp is now serving over 1,000 campers each season and hopes to accommodate more in the future. As it was envisioned in the 1950s, Luther Heights Bible Camp nurtures growing faith in both youth and adults and cultivates a fun-loving Christian community.
1951 Pastor Elmore Carlson from Trinity Lutheran in Nampa signed the Forest Service Permit for Luther Heights Bible Camp (LHBC). The articles of Incorporation were signed in 1953.
1954 The first building, a bathhouse, was constructed with concrete mixed by a manual hand cranked mixer.
1954–76 The camp operated with a camp manager and local Pastors serving as 'Deans' for each camp session.
1955 Usage of the camp with primitive facilities (tents) numbered 144 during the two scheduled camp weeks.
1955–56 Construction of a main lodge began. This became White Cloud Lodge.
1957 During the spring of 1957 a massive amount of snow slid off the east wall of the White Cloud Lodge and collapsed the roof and east wall of the dining hall. Additional structural support was added when the repairs were made.
1958–72 Most of the camper cabins (8), maintenance building and 2 staff cabins built with campers using the first cabins in 1960
1975 Luther Heights celebrated its 25th Anniversary
1977 Pastor Mike Dismer becomes first Executive Director through 1983.
1984 Luther Heights begins partnership with Camp Hodia Diabetic Camp that continues into the present.
1984–86 John Bent, '84, and Larry Stapler serve as Interim Directors.
1987 Diane Tauscher (Mundhenke) serves as Executive Director.
1987 Pastor Eric Olsen called as Executive Director (half time increased to full-time in1993).
1989 Junior High Trails (Backpacking) sessions, 1991 Day Camp sessions, 1992 Servant Event and 1996 Introduction to Camp sessions (entering 1–4th grades) programs were added to the Luther Heights ministry
1996–98 Kate Christensen becomes the first year-round Program Director, then Heather Dale 1999-2000, Laura Aase 2001-2006, Ben & Sarah Hamilton 2007, KB Ohrtmann 2008, Michelle Chandler 2009, Karin Teig 2013–14, and Jon Davidson 2014-Present.
2000 Luther Heights is accredited by the American Camping Association.
2004 Summer Family Camp sessions were added to the Luther Heights ministry
2007-08 Two buildings constructed, functioning as 4 cabins with bathrooms.
July 2009 Luther Heights receives notification of US Forest Service acceptance of the 20 year master plan for development.
Summer 2010 "Town meetings" conducted across the constituency to share plans for new facilities.
Fall 2010 A pre-campaign feasibility study was conducted to determine the viability of a capital campaign to fund construction of new facilities.
July 2011 Capital campaign authorized by the Luther Heights Board to raise the funds for new facilities.
2013 Construction on the new Sawtooth Lodge begins
2014 Construction of Low Ropes Course
July 2016 Sawtooth Lodge Dedication
2017 Pastor Eric Olsen steps down as Executive Director. Eric and his wife Carol served Luther Heights ministry for 30 years.
2017–2018 Rev. Bob Kuehner serves as Interim Director.
Fall 2018 Kelly Preboski called as Executive Director.
---
Location