Resources
---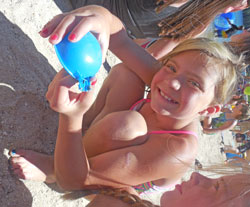 Helpful information and forms as you prepare for your week at camp.

---
How to Register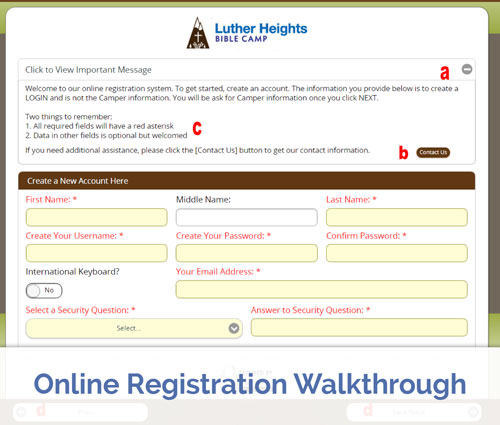 Read the details on our website specific to your program of choice to be sure you are excited for the adventure ahead! Each program is designed with the age group in mind ensuring an experience unlike any other. Some programs have specific details and requirements that must be met for the full experience. Any further questions can be answered by contacting us.
Register Online Click the registration buttons found throughout the website. This will lead you to a page that will ask that you use one of the preferred web browsers to ensure a smooth registration experience.
Once you are redirected to Campwise, our registration site, follow the directions to create an account for you and your family, or to log back into your existing account.

You will want to write down or save your account name and password. This allows you to get back into your system, save your information, and register for more camps without the need to start from the beginning. It also allows you to come back at a later time to pay your registration and add subprograms such as horseback, rafting, and tie dye.
If you do not remember your login information, please follow these steps first!

Contact Campwise to recover your account information at 1-866-433-4548
OR Contact the Luther Heights office by phone-208-886-7657 or by email for assistance.

Call camp office for help registering over the phone. 208-886-7657
Be sure to fill out all forms during registration. Many of the forms will be required before you can complete registration and pay the deposit. Other Forms such as Horseback and Rafting forms are not required to register, but must be filled out to ensure your camper is included in these activities. If the forms are not signed they will not be able to participate. Sign your forms!
To hold your spot for the camp program you choose, you must meet the minimum deposit. Until this is met, your status will read "Enrolled", others may take your campers place until you are "Registered." You will receive confirmation emails throughout the registration process to let you know if we have received payments, approved discounts, etc.
Any mailed forms and payments can be sent to the appropriate address below:
---
Directions
From Sun Valley, Idaho:
The Camp is approximately 40 miles north of Ketchum/Sun Valley. Go north on HWY 75 over Galena Pass and past Smiley Creek Store. Stay on HWY 75 and 3 miles beyond Smiley Creek you will come to Alturas Lake Road. Turn left onto Alturas Lake Road — continue 3.5 miles to the sign for Luther Heights Camp. Turn right onto the access road into the camp.
From Stanley, Idaho:
The Camp is approximately 25 miles south of Stanley. Go south on HWY 75 past Obsidian and past a sign for Busterback Ranch on your left. In another half a mile there is a sign for Alturas Lake Road. If you get to Smiley Creek, you have gone about 3 miles to far. Turn right onto Alturas Lake Road and continue 3.5 miles to a sign for Luther Heights Camp. Turn right onto the access road into the Camp.
GPS Coordinates:
Please use the following GPS Coordinates to reach Luther Heights Bible Camp. Entering "Alturas Lake Road, ID" usual directs you somewhere else. LHBC is about 20 miles south of Stanley or 40 miles north of Ketchum off of Alturas Lake. GPS Coordinates: 43.92938-114.85886
---
Accommodations
If you would like to request accommodations at Luther Heights when dropping of a camper for a program, please contact us ahead of time. We cannot ensure that space will be available, but will do our best if we know you need space for a night!
If you are passing through and would like a comfortable spot to lay your head, let us know ahead of time, or stop in to see if we have space! We will gladly accommodate travelers through if we have open lodging.
US Forest Service Campgrounds around Alturas Lake
Alturas Lake Campground. Phone: 208-774-3001
Fees: Single/ $10/night
Double $18/night
Extra vehicle $5/night
Smokey Bear Campground. Phone: 208-774-3000
Fees: $10/night
$5 extra vehicle
North Shore Campground. Phone: 208-774-3000
Fees: $10/night
$5 extra vehicle
---
FAQs