Our Mission
Luther Heights Bible Camp shares God's love with all generations as we grow in faith, live by grace, and love one another.
Our Values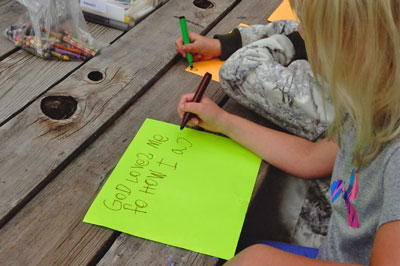 Create belonging.
Everyone is welcome! We listen and learn. We do not question how God made you and accept each other with love.
Foster community.
Passionate participation is how our Christian faith lights us up. We believe the campers' experience goes beyond the borders of our camp into supporting and building relationships in their churches, local communities and homes.
Journey and explore.
We are not complacent. We want campers to be discerning, to grow or even to start over. Luther Heights is different than home. Anything is possible with God.
Discover strengths.
We can be role models, friends, guides or just a compassionate ear. We might be future leaders, teachers, a rocket scientist, a dentist or even a parent someday. Life is full of blessings and surprises that everyone holds inside waiting to come out.
Evangelize God's word.
We proclaim boldly our love for the Lord – through joyful songs, meadow games, or within the peaceful quiet that descends at the end of our campfire worship. All our actions praise the Lord.
Serve passionately.
We promote stewardship, hospitality and discipleship. We are all blessed with unique gifts and advocate sharing those gifts with others.
Fear not.
We provide a safe haven for the first-time camper, the skeptic and the excited kid who's been coming to Luther Heights since they were two. We assess risk and act responsibly for the safety of all participants. While remote in location, we're at the heart of God's home.