---
Thank You
Your generous donation allows Luther Heights Bible Camp to live out our mission in many ways.
Your generous donation allows Luther Heights Bible Camp to live out our mission in many ways. Donations create opportunities to offer meaningful, safe and fun program options, as well as offer many scholarships to youth and adults. Donations make it possible to hire quality young adults who have a passion for sharing the Gospel message as our summer staff team. Donations help us with day-to-day operations to ensure our camp meets the American Camp Association accreditation standards. Your support allows us to fulfill our mission to provide safe and amazing experiences for all at Luther Heights Bible Camp. Thank you!

—Kelly Preboski
Executive Director
---
Financial Giving
There are several ways to make a gift to Luther Heights Bible Camp. Please read below to find out about the kinds of gifts we accept.
---
Kinds of Gifts
Annual Fund
Any donation under $100 will go toward our annual operation budget.
Friends of Luther Heights
Any donation of $100 or more will go toward our Friends of Luther Heights, indicating your desire to identify yourself with the network of generous people who have pledged a gift of $100 or more to the camp for its annual needs, either in a one-time gift or in periodic gift throughout the year, and they pledge to consider similar giving in the years ahead.
Camp Scholarships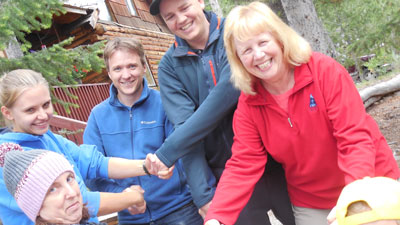 Originally set up as the Jon Francis Scholarship Fund in 2007, our scholarships, which we call "Camperships," provide children and adults who require financial assistance for any reason an incredible experience at Luther Heights. Jon Francis, a camper and counselor at Luther Heights Bible Camp, loved teaching and mentoring children in the beauty of God's creation. The Jon Francis Scholarship fund was created to continue his youth ministry to endow scholarships in his name and memory. Your generosity will ensure the continuation of Jon's youth education ministry and make a positive difference in the lives of many campers. Learn more at Jon Francis Foundation
Learn more at the Jon Francis Foundation website.
Other: Specific Need
You may direct your gift toward a special use other than those listed above. Please put a brief description of the purpose to which you are directing your gift. Feel free to contact Kelly Preboski, Executive Director, about our current needs at
In Memory/Honor of Someone
If you would like your gift listed in memory of a loved one or in honor of someone special, choose the designation you want from the drop-down box, and then type in the name of the person(s) you are memorializing or honoring. If the information doesn't fit in the box or needs further clarification, please send an email to our office at or call (208) 886-7657.
If you would like us to send an acknowledgement of your memorial or honorary gift to a person or family, please contact our office by email or phone. Thank you.
---
Ways to Give
Simply Giving
We partner with Thrivent Financial for Lutherans for their "Simply Giving" program. Your online donation is processed through a secure website and allows you to customize your giving options, including the kind of gift and method of giving.
With Thrivent's Simply Giving, you may use MasterCard, Visa, Discover or American Express credit card. You may also authorize your bank to transfer funds electronically from your checking or savings account to Luther Heights Bible Camp.
Please follow the link to be directed to a secure webpage to either enter a one-time donation or to create an account to save your information and to set up recurring monthly donations. Please include your email address to receive a tax-deductible receipt.
Check
You can mail a check to our Boise Office address. Please make a note in the memo if you'd like your donation to go to a specific purpose: Annual Fund Gift, Friends of Luther Heights, Camp Scholarships, or Other.
Luther Heights Bible Camp
707 W. Fort St.
Boise, ID 83702
---
Other Ways of Giving
Thrivent Gift Matching
Do you hold a policy or other product with Thrivent Financial for Lutherans? If so, you can extend the reach of your gift through Thrivent Choice.
Members are allocated a set amount of money to give to the Lutheran organizations of their choice. Here is how to designate your Thrivent Choice Dollars to Luther Heights Bible Camp:
Internet
Log on towww.thrivent.com
Sign in with your username and password or register for an account.
Once you have registered and signed in, select the "Search" button for Thrivent Choice in the right hand side.
In the middle of the next page, type in "Luther Heights Bible Camp" in the "Organization Name" box and click search.
Next to our camp name, you will see our click the "Direct Now" button. You will be able to assign all or part of your choice dollars to us. You can also set it up so Luther Heights continues to receive your future Thrivent Choice Dollars.
Click the "submit button" and your Thrivent Choice Dollars will be sent to our ministry.
Phone
Call 800-847-4836.
Follow the prompts that are given.
You will be asked for the last four digits of your Social Security number.
Then you will be sent through an automated operator system.
Our camp is listed as "Luther Heights Bible Camp."
Thank you for supporting Luther Heights Bible Camp through Thrivent Financial for Lutherans!
Amazon Wish List
Our Amazon Wishlist has specific items we need at camp, which you can purchase directly on Amazon and have sent to us! Click here to see our list.
Amazon Smile
AmazonSmile is a simple and automatic way for you to support Luther Heights Bible Camp every time you shop through Amazon. Simply go to smile.amazon.com and select Luther Heights Bible Camp as the organization of your choice. AmazonSmile will remember your organization after your initial visit. The AmazonSmile Foundation will donate 0.5% of every eligible purchase to Luther Heights Bible Camp.
For more information, visit smile.amazon.com, scroll to Help & Settings in the Menu, and click "Your AmazonSmile."
---
Volunteer
Volunteering is a great opportunity to support Luther Heights Bible Camp. We have a variety of roles, many of which allow you to experience the beauty and community of camp.
---
Work Weekends
We love to host volunteers at our Opening and Closing Work Weekends. Join us as we open up or close down the cabins and facilities to ensure program space is properly taken care of for the enjoyment of others during the camp season. More information, including dates and how to register, can be found under our 'Programs' tab. All ages and skill levels welcome.
---
In the Office
From time to time, we ask for volunteers to help in our Boise office with various mailings or events. If you'd like to be on the email list for more information about these opportunities when they arise, please email our office at .
---
Health Care Manager
If you are a trained medical professional (M.D., P.A., or R.N.) we would like to invite you to spend a week at camp as our Health Care Manager. Your knowledge and expertise in the medical field is important and ensures the health of and safety of our campers.
The Health Care Manager role is a week-long volunteer position. Your primary role will be dispensing medications and being on-call for first-aid and emergencies. Lodging and meals are included. In thanksgiving for your work at camp, Luther Heights offers one of the following: 1) a Campership for up to two kids (yours, or you may gift them to others), OR 2) a $200 honorarium for the week.
Contact the office at for more information.
---
Resource Pastors, Associates in Ministry, Youth Leaders, and General Volunteers
If you are connected to a church or ministry, Luther Heights Bible Camp invites you to participate in our programs. Join us for a week or weekend at camp, helping to lead devotion, assist in worship or participate in Bible Study and be a resource for theological questions.
Contact Kelly Preboski, Executive Director, at for more information.
---
At Home
Luther Heights Bible Camp is proud to partner in ministry with many congregations, youth groups, and more to spread the Good News. Check out some of our congregations below and feel free to contact them about ways to get involved with ministry down from the mountain.
St. Paul Lutheran Church

842 Alameda Drive
Ontario, OR 97914
541-889-9349

Grace Lutheran Church

602 Yakima
Vale, OR 97918
(541) 473-3619

Shepherd of the Mountain Lutheran Church

750 Seneca Lane
Jackson, WY 83001
307-733-4382

New Hope Lutheran Church

119 S Apple St.
Shoshone, ID
208-886-7000

Faith Lutheran Church

2915 S. Montana Ave.
Caldwell, ID 83065
208-459-2444

Grace Lutheran Church

Highway 55
Horseshoe Bend, ID 83629
208-793-3354

Grace Lutheran Church

2422 American Legion Blvd
Mountain Home, ID 83647
208-587-4513

Hope Lutheran Church

331 North Linder Rd.
Eagle, ID 83616
208-939-9181

Immanuel Lutheran Church

707 W. Fort St.
Boise, ID, 83702
208-344-3011

King of Glory Lutheran Church

3430 N. Maple Grove Rd.
Boise, ID 83704
208-377-0220

Redeemer Lutheran Church

2920 Cassia St
Boise, ID 83705
208-344-6758

Shepherd of the Valley Lutheran Church

3100 S. Five Mile Rd.
Boise, ID 83709
208-362-1112

Trinity Lutheran Church

8 South Midland Blvd
Nampa, ID 83651
208-466-2173

St. John Lutheran Church

656 Tyhee Ave.
American Falls, ID 83211
208-226-2398

Our Savior Lutheran Church

464 Carriage Lane North
Twin Falls, ID 83301
208-733-3774

Lutheran Church of the Good Shepherd

215 N 18th St.
Pocatello, ID 83201
208-232-7740

Emanuel Lutheran Church

1110 Parkway Dr.
Blackfoot, ID 83221
208-785-3304

Bethel Lutheran Church

751 East 700 North
Firth, ID 83236
208-589-1557
208-235-1833

First Evangelical Lutheran Church

455 W. Sunnyside Rd.
Idaho Falls, ID 83402
208-522-9301

New Day Lutheran Church

Pearl Hall
2705 E 17th St
Ammon, ID 83406
208-523-6333